7th Annual
Young Sprouts in the Garden
Saturday, May 17, 2014
9:00 a.m. – 1:00 p.m.
Presented by Master Gardeners of Greene County
Springfield Botanical Center & Gardens
2400 S Scenic Ave, Springfield MO 65807
Where else could you find a zip line, archery, geocaching, worm hunting and seed planting in the same place for FREE? Grind corn, visit a Plant Zoo and make your own hummingbird feeder at one of Springfield's most popular children's events, Young Sprouts in the Garden!
For the sixth year, Master Gardeners of Greene County will again sponsor their signature children's event, "Young Sprouts in the Garden," from 9 a.m. until 1 p.m. on Saturday, May 17, 2014, at Nathanael-Greene Close Memorial Park, 2400 S. Scenic Ave. The free event, in collaboration with National Kids to Parks Day, will take place rain or shine.
Several area organizations team up to host dozens of free hands-on activities including the National Weather Service, Springfield Area Herb Society, Beekeepers Association of the Ozarks, Missouri Department of Conservation, and Greater Ozarks Audubon Society.
"It's an exciting time for adults to watch their children and friends' children have one of the special times of their lives," said Master Gardener Susie Joplin. "They bond with nature and learn how nature is very important to everyone's lives. Young Sprouts impacts and makes a difference in a child's life."
Last year ArborCare of the Ozarks hosted the zipline: "Each child came to the traverse line with a different attitude," said Sandy Harrel. "Some were thrill seekers and they couldn't wait to get on the helmet and harness and go. Some were a little nervous and weren't quite sure whether to do it or not. But all who went had huge smiles on their faces at the end and a story to tell their friends."
2013 Activity Hosts
All About Trees
Beekeepers Association of the Ozarks
Brightening Artworks
Community Olympic Development Program-Archery
Friends of the Garden
Girl Scouts of the Missouri Heartland
Gray-Campbell Farmstead
Greater Ozarks Audubon Society
Master Gardeners of Greene County
Missouri Alliance for Children and Families
Missouri Community Forestry Council
Missouri Department of Conservation
Missouri Institute of Natural Science-River Bluff Cave
Missouri Master Naturalists, Springfield Plateau Chapter
Missouri Prairie Foundation
National Weather Service
Ozark Mountain Geocachers
Ronzo the Clown
Sam's Club
Smiling Sun Native Plant Nursery
Springfield Area Herb Society
Springfield Department of Environmental Services
Springfield-Greene County Park Board
The Discovery Center of Springfield
University of Missouri Extension-Nutrition
USDA-NRCS Missouri Area 4 Office
Watershed Committee of the Ozarks
Wild Birds Unlimited
YMCA Camp Wakonda

Activity Stations Include
Archery
Bad Bug Bean Bag Game
Balloon Flowers
Bike Blender
Bird Beak Engineering
Bird Seed & Feeder Giveaway
Compost Creation
Corn Grinding, Rope Making
Face Painting
Fossil Hunt
Geocaching
Good Bug Bad Bug Bean Bag Game
Journey with Stormwater
Know Your Native Roots
Learning Leaves! Leaf Rubbing
Live Ladybug Observation House
Make and Take Hummingbird Feeder
Make and Take Nature Crafts
Make and Take Sundial
Metamorphosis Crawl
Monarch Lifecycle
Native Roots Run Deep
Nature Printing
Observation Bee Hive
Pervious Concrete
Photo Cutout Board
Pin the Pollinator on the Flower
Plant Zoo
Plants Finding Pollinator Friends
Rotten Log Habitat
Seed Planting
Seeds of Life
Tattoo Garden
Vegetable Plant Parts
Worm Hunt: Anatomy & Habitat
Zip Line!
Support this event?
All proceeds go directly towards Young Sprouts in the Garden!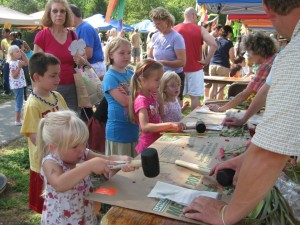 Children have the opportunity to observe live ladybugs and bees, create botany rubbings, and create nature creatures while learning about plants, weather, and conservation. "Anyone who hasn't made it out to this event… you're missing one heck of a great time." said Emma Raborn, Mountain Home, Arkansas, who attended last year. Admission is free. Donations to help cover costs are encouraged.
Dellene Nelson, life long gardener and co-chair of the event, says "there are so many incredible activities. The children are completely engaged the whole time learning about plants and nature, wildlife and our environment. It's fun not only for the kids and parents but for everyone involved in hosting the event. The creativity that goes into the activities is phenomenal."
This event is free to the public and will take place, rain or shine.
Master Gardeners of Greene County is a volunteer group which aids the University of Missouri Extension by offering the public educational opportunities and answering home garden questions.
For more information, call 417-881-8909 or email youngsprouts@mggreene.org
Thank You to Our Sponsors!
Beekeepers Association of the Ozarks
Bill Hardmon
City of Springfield-Environmental Services
The Ozarks Coca-Cola/Dr Pepper Bottling Company
Federated Garden Clubs
Geocache Hides
Janet Hayworth
Lowes Home Improvement Warehouse
Millsap Farm
Panera Bread
Schaffitzel's Flowers & Greenhouses
Southwest Missouri Camera Club
Springfield Conservation Nature Center
Springfield-Greene County Library District
Springfield Urban Agriculture Coalition
Victory Mission